Vogue UA presents ART ON THE BATTLEFRONT, a multidisciplinary project that features works of internationally acclaimed artists. Combining media, digital, and art, his project aims to support the Ukrainian people during the war, and inform the global community about the Russian invasion of Ukraine.
Exclusively for Vogue UA, twelve prominent international artists have created works of various scale in various techniques – from anti-war posters to large canvases and photographic portfolios.
The project features Marina Abramovich, Erwin Wurm, Sean Scully, Zhang Juan, Jonathan Meese, Sarah Morris, Fred Thomaselli, Marcel Zama, Magnus Plessen, Isai Gunduz, Beatrice Milhases, and Ben Sledsens. They united against Russian aggression to disseminate information about events in Ukraine, referencing traditional culture and celebrating the distinctive voice of the Ukrainian people. For example, Fred Tomaselli integrated Ukrainian folk motifs into the front page of The New York Times, and Maryna Abramovich presented a series of films exploring the topic of healing from the deep traumas caused by the totalitarian regime.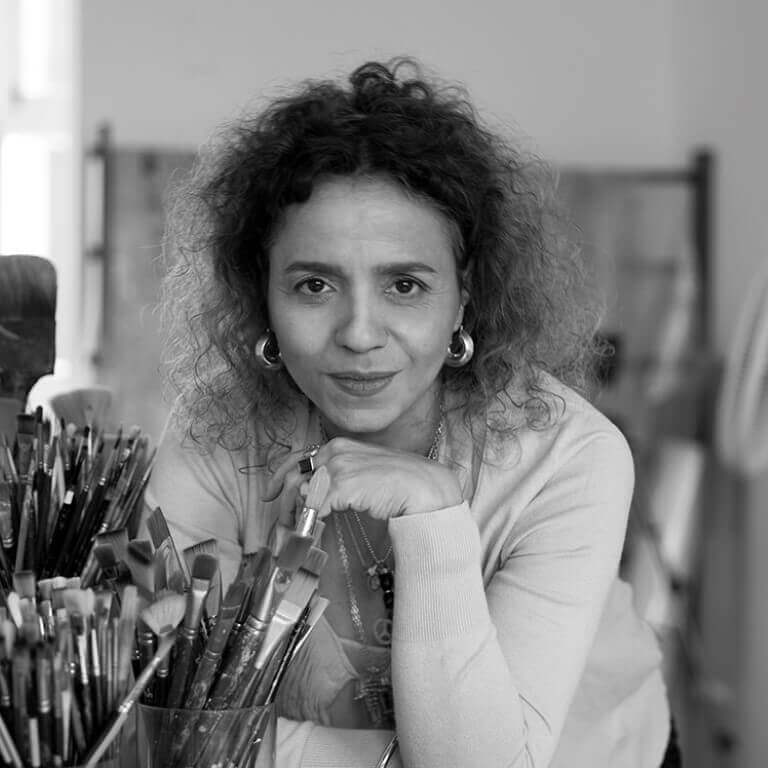 Beatriz Milhazes
Brazil, Rio de Janeiro
b. 1960
Beatriz Milhazes is a Brazilian-born collage artist and painter known for her large-scale works juxtaposing the country's cultural imagery and references to western Modernist painting and vibrant colors. She is also an active LGTBQ+ community member. She has been called Brazil's most successful contemporary painter. Characterized by sensual color palette, optical movement and energetic visual cadences, her abstract work fuses a diverse repertoire of images and forms. Combining elements of her native culture with European abstraction, these colorful densely layered works are held in a state of tension, carefully balanced between order and chaos, rational structure and spontaneity.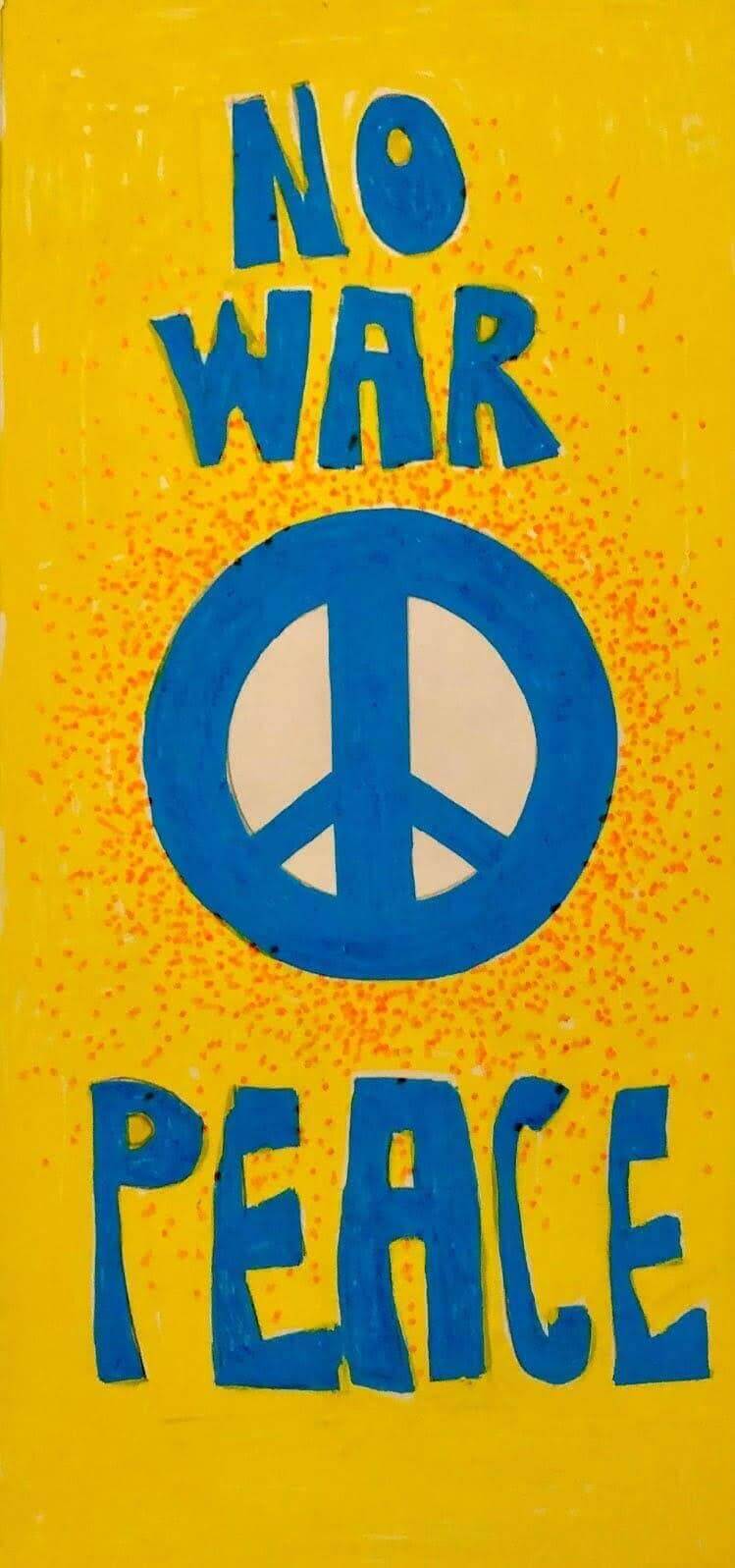 BEATRIZ MILHAZES
Beatriz Milhazes, Untitled
© Beatriz Milhazes
Courtesy White Cube Gallery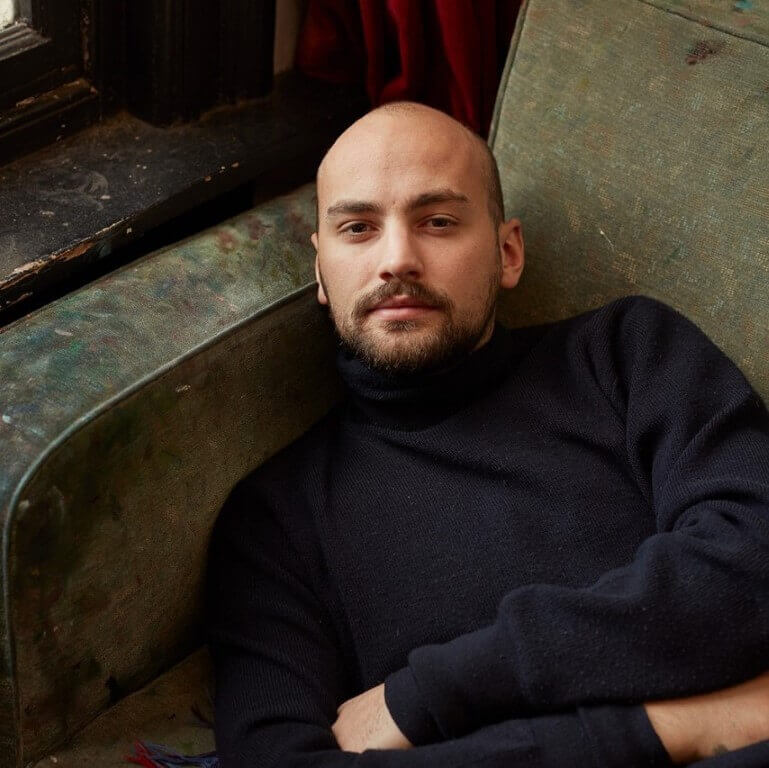 Ben Sledsens
Antwerp, Belgium.
b. 1991
Ben Sledsens is a Belgian Post-war & Contemporary artist. He creates colorful ideal worlds, building an ever-expanding dream universe that combines personal mythology with a close reading of art history. Ben Sledsens's work have been featured in shows by key galleries and museums such as Kunstmuseum Luzer. Soothing and folkloric, Ben Sledsens' paintings seem to exist as their own slices of paradise. He quickly became known for his large-scale figurative works that are set in nature or filled with woodland motifs. Many of his paintings feature depictions of his partner, the fashion designer Charlotte De Geyter, who appears wearing her own designs.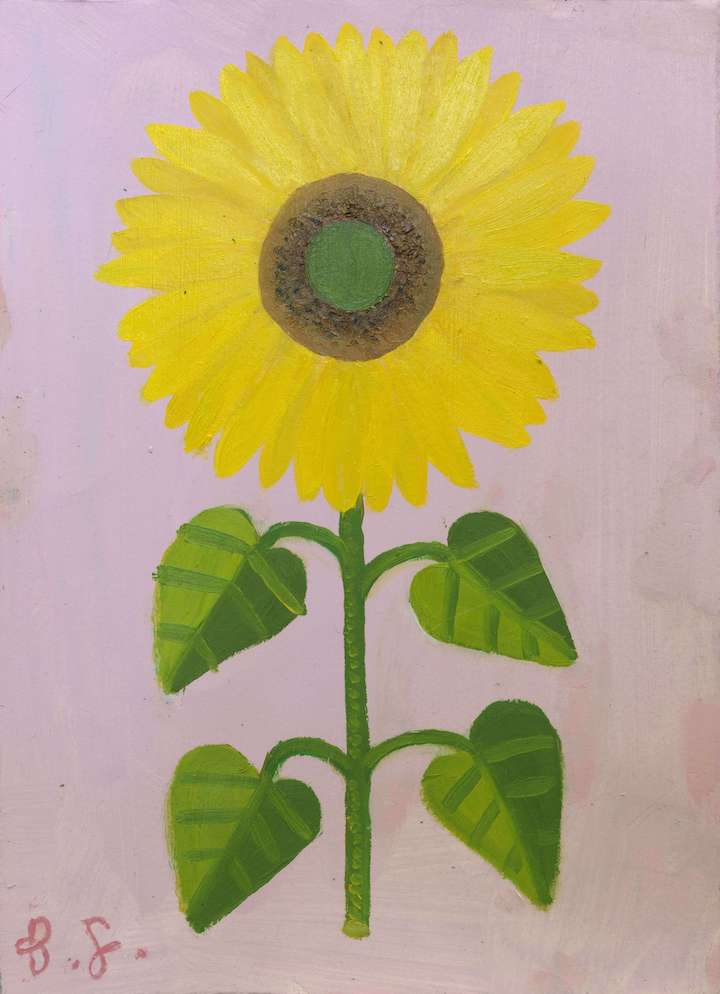 BEN SLEDSENS
Sunflower, heart-shaped leaves, 2022 oil and acrylic on paper 31,5 x 22,8 cm Courtesy Tim Van Laere Gallery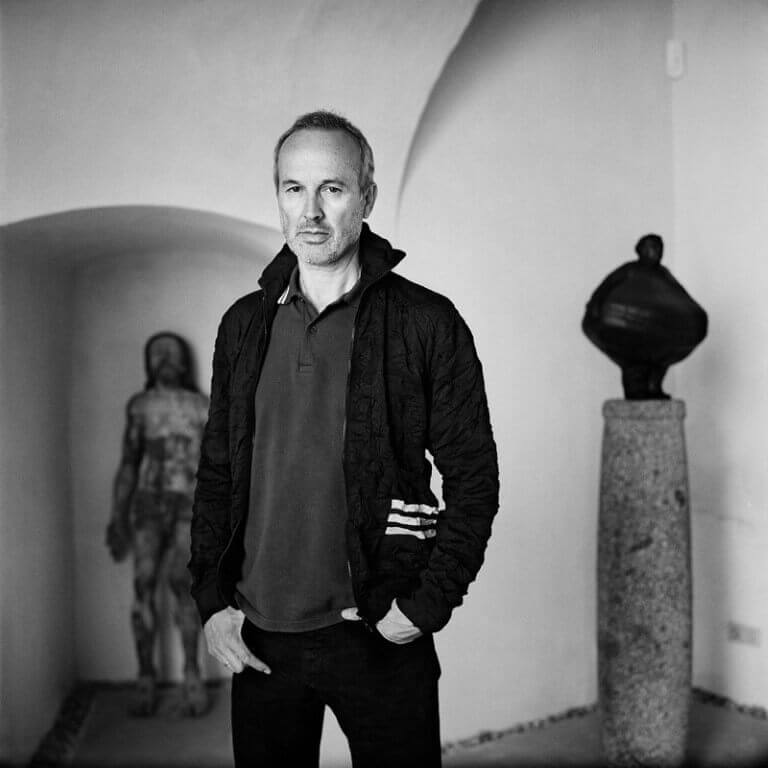 Erwin Wurm
Austria, Vienna
b. 1954
Erwin Wurm is best known for is strange depictions of everyday life and his humorous approach to the Formalism style. He was born in Bruck an der Mur and studied at the Academy of Applied Arts and the Academy of Fine Arts in Austria. Wurm uses everyday objects such as nails, screws, and almost anything else, creating breathtaking sculptures that make the viewer question exactly what defines the medium. In some series he explores the idea of the human body as a sculpture, in some of his more recent work he anthropomorphizes everyday objects in unsettling ways, ie distorting and bloating the volume and shape of a car in Fat Car. Wurm considers the physical act of gaining and losing weight a sculptural gesture, and in his work often creates the illusion of bodily growth or shrinkage. While Wurm considers humor an important tool, there is always an underlying social critique of contemporary culture, particularly in response to the capitalist influences and resulting societal pressures that the artist sees as contradictory to our internal ideals. Wurm emphasizes this dichotomy by working within the liminal space between high and low and merging genres to explore what he views as a farcical and invented reality.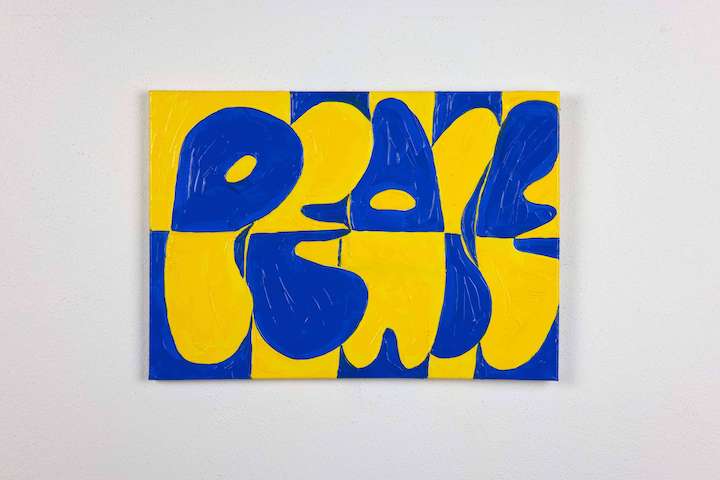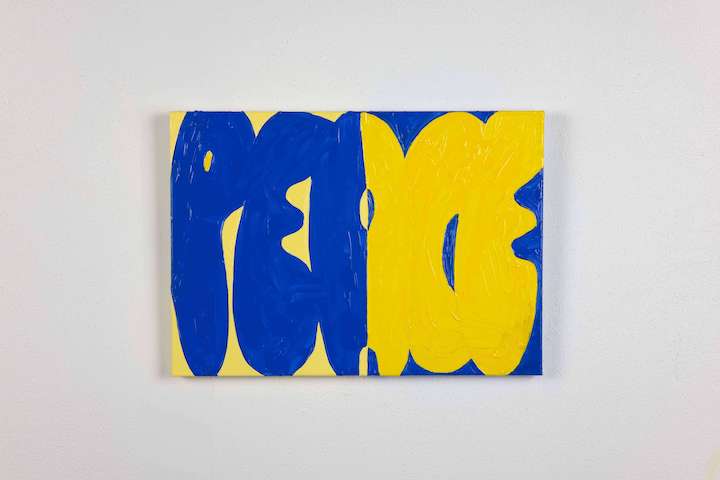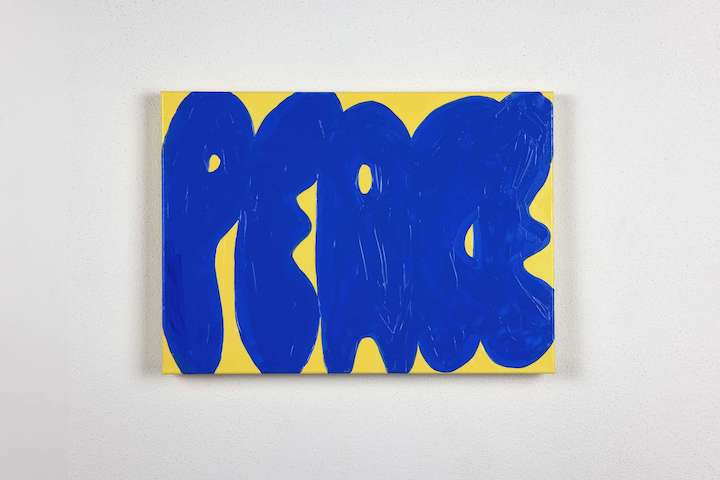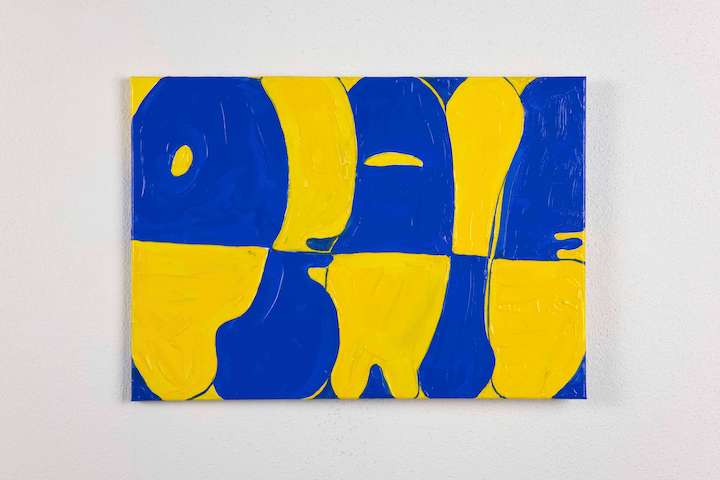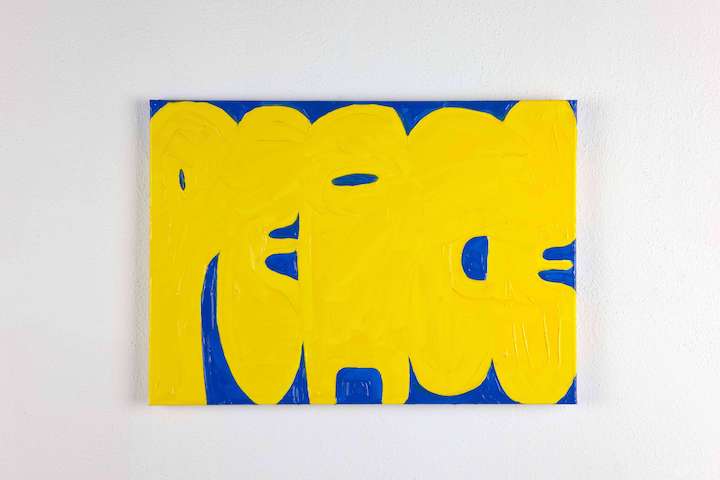 ERWIN WURM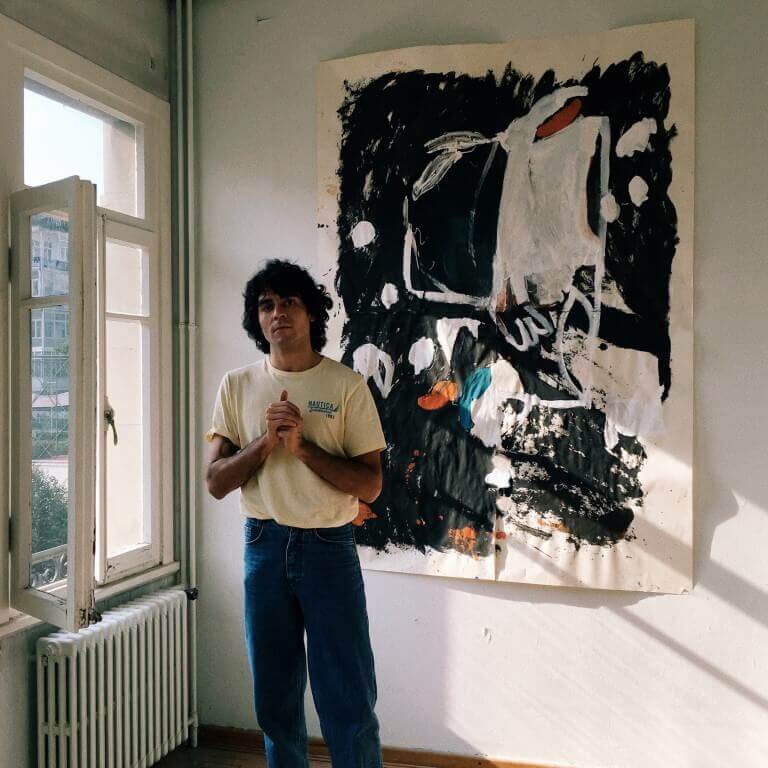 Eser Gündüz
Born in Antalya, Turkey. Based in France
b. 1990
Eser Gündüz combines architectural drawings, diagrams, cartography, manuscripts with abstract elements leading to structural investigations of retro-futuristic utopia. The artist presents figurative compositions, allowing himself to express his inner childish energy through simple drawings that exceed the contours. Gündüz expands the boundaries of paintings and merges gestural, sometimes chaotic brushstrokes with patchy pictorial and linguistic elements, which are encyclopedic in range and deeply personal in meaning. Each work consists of different elements that can be interpreted individually and collectively since they become a self-sufficient component and a fragment. Born and raised in Istanbul, Turkey, Eser Gündüz studied architecture at Mimar Sinan Fine Arts University. After a couple of years in architecture, he pursued his career in spatial painting. His knowledge of architecture is realized in most of his works, the artist often turns to schematic and planning drawings. Gunduz's artwork is a well-planned structure of symbols, letters, and drawings that speak of visible and less visible, sometimes even obscure. The artist makes a bridge for viewers to the tectonic coexistence of elements. Gündüz believes that there's no strict distinction between design and fine art and proves it with the rigorous discipline of his works. Bold color fields and transparent canvases with Victorian frames provide an ephemeral base for artists' graphic expression. This plastic imitation of opulence combined with the utopian scientific diagrams turn into the documentation of major themes of our times. Gündüz' works take the viewer to a mechanical future, where artificial intelligence is the fundamental part of life.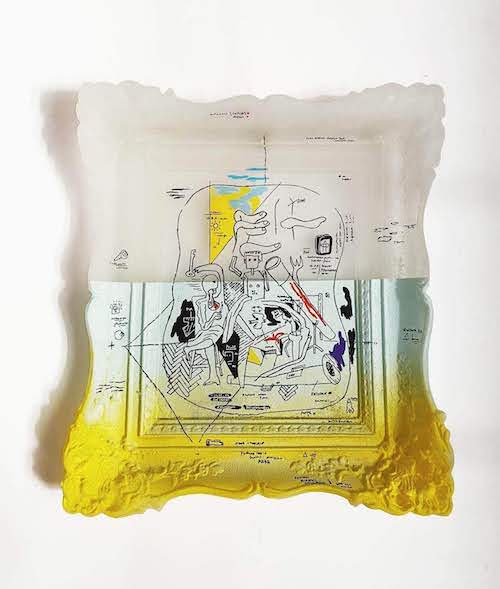 ESER GÜNDÜZ
Unite de la Liberte
45 x 39 cm Mixed media on polyurethane frame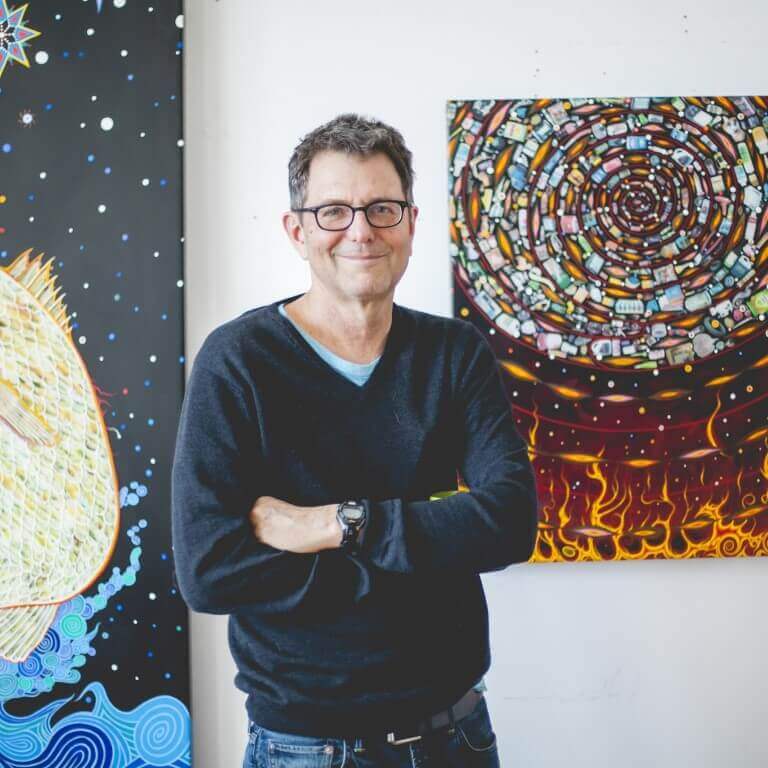 Fred Tomaselli
Brooklyn, New York, USA
b. 1956
Fred Tomaselli is known for his collage paintings that incorporate unconventional materials and depict hallucinatory, surreal scenes. Tomaselli grew up in the1970s drug-filled culture of the West coast, before moving to New York, where he immersed himself in the city's artistic community. The artist cites the ambiance of 1980s New York as the main inspiration behind his unusual use of materials that include aspirin pills, nicotine patches, hemp leaves, hallucinogenic powders, and medicine. These materials he incorporates into shimmering, glittery works that combine natural imagery with patterns and surreal backgrounds, blurring the lines between the natural and the artificial. Tomaselli's work also touches on transcendentalism, linking metaphysical and naturalistic philosophy of the 19th century to the contemporary vision with its search for new spiritual meanings.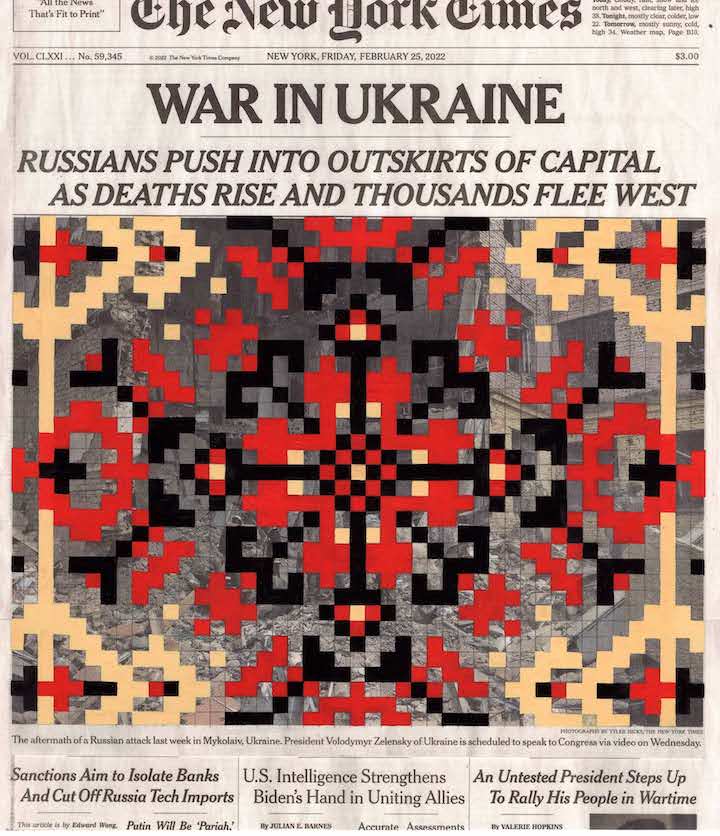 FRED TOMASELLI
Untitled
Courtesy of the artist and the White Cube gallery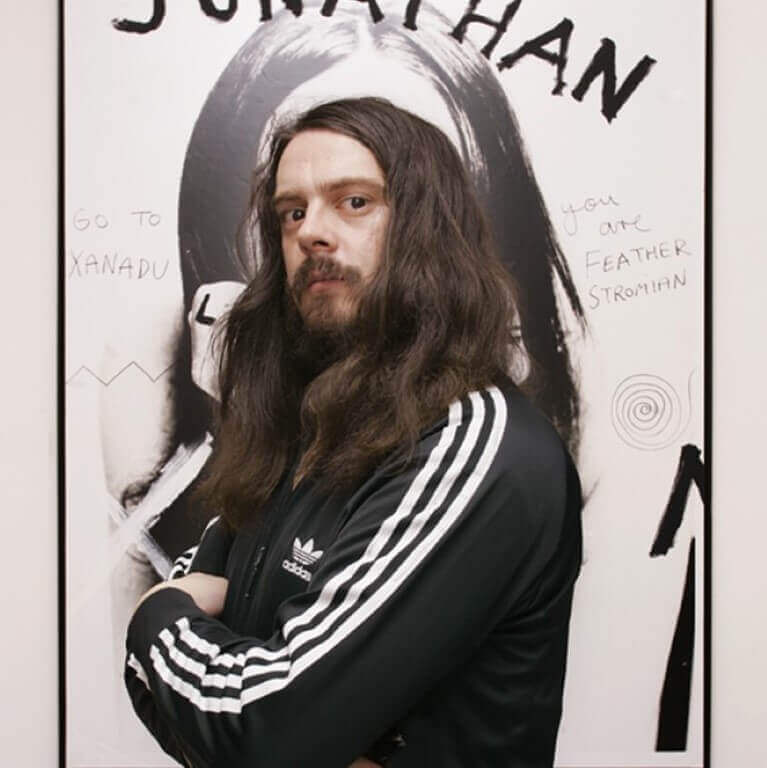 Jonathan Meese
born in Tokyo, based in Berlin
b. 1970
Notorious for his controversial and ambiguous political statements issued through paintings, sculptures, installations, and performances, Meese's practice is rooted in the German traditions of Dada and Fluxus, drawing inspirations from artists like Joseph Beuys. With his provocateur disposition and the proclamation of the Dictatorship of Art, the artist often walks the fine line between provocation and blasphemy, catharsis and exorcism, personal idolization and political criticism. Meese's paintings, drawings and installations, indebted to the German Neo-expressionism of the 1980s, are stylistically garish. His seemingly careless technique feigns the naivete of an enfant terrible. His images often incorporate found objects, original photographs of political figures, and political manifestos in untranslatable German and English neologisms, written as graffiti.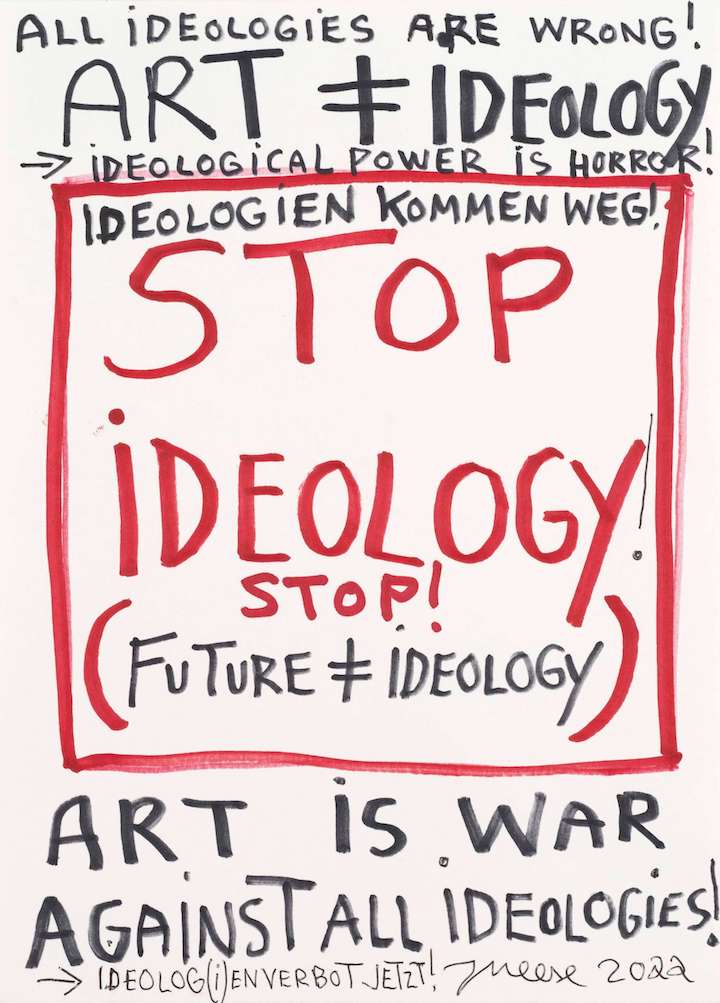 JONATHAN MEESE
DR. NO-IDEOLOGY: KEINE IDEOLOGIE, BITTE! (NO IDEOLOGY, PLEASE), 2022
Permanent marker and ballpoint pen on paper 29,7 x 21 cm Courtesy Tim Van Laere Gallery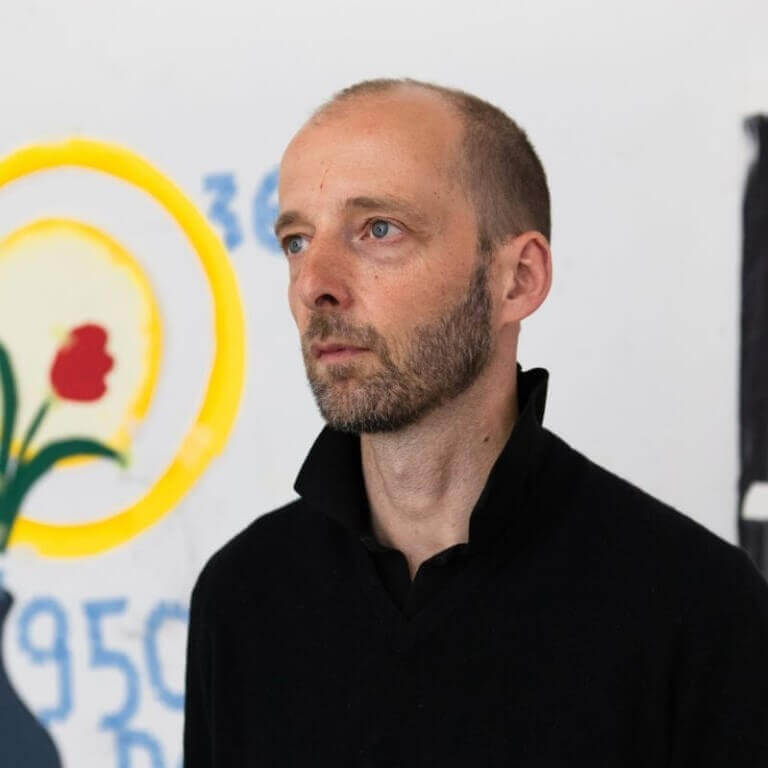 Magnus Plessen
Born in Hamburg, Germany. Lives and works in Berlin
b. 1967
Magnus Plessen creates paintings that shift fluidly between abstraction and representation. Using a diverse range of painterly methods and dynamic compositions, his works are studies on perception, structure, material and transience. The images in Plessen's paintings usually undergo systematic development, and are constructed by adding and removing sections of paint to reveal passages of compact form and negative space. The process of application and subtraction is evident through resolute brushstrokes and scrapes, and in doing so, the construction of the work emerges in rigorous and dynamic syncopation. Plessen's approach to painting is largely phenomenological, since he aims to capture momentary emotion rather than reality.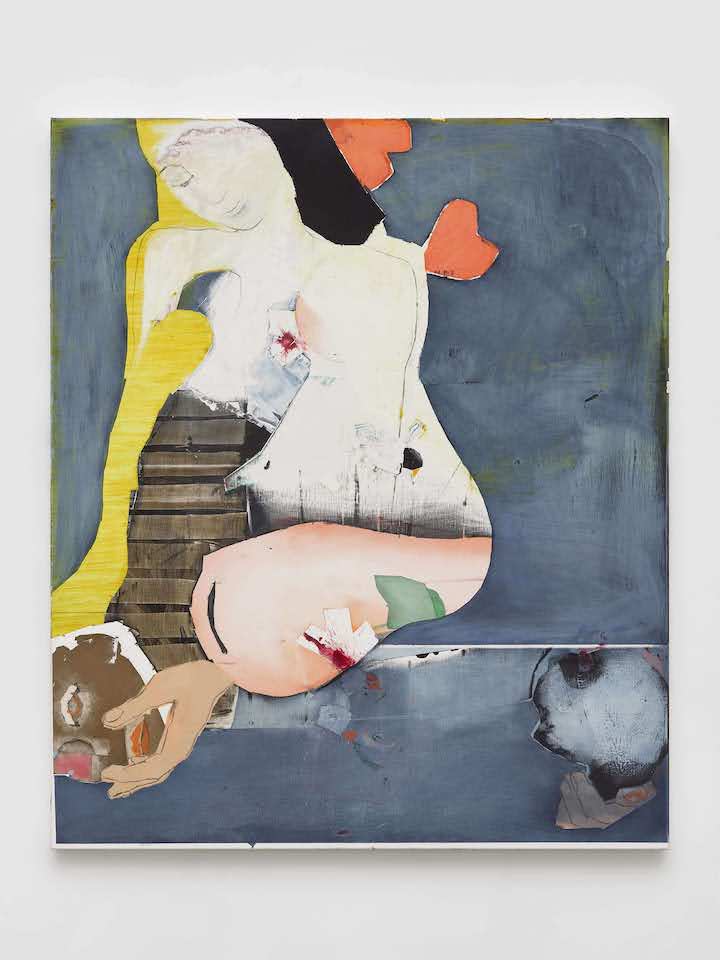 MAGNUS PLESSEN
Untitled (Fig. 10), 2020
Oil and charcoal on canvas 54 5/16 x 45 7/8 in (138 x 116.5 cm) Courtesy Magnus Plessen.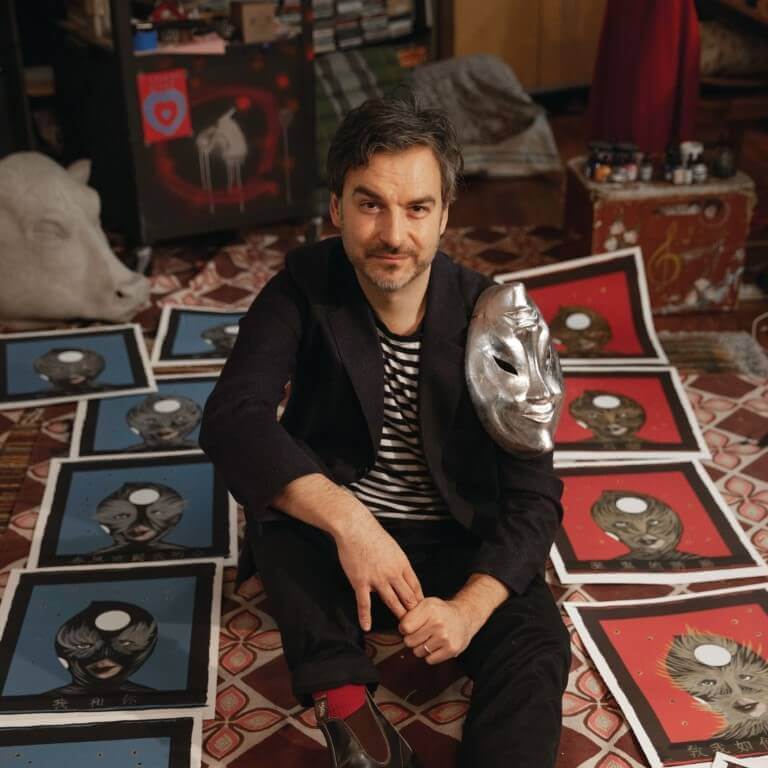 Marcel Dzama
Winnipeg, Canada
b. 1974
Since rising to prominence in the late 1990s, Marcel Dzama has developed an immediately recognizable visual language that investigates human action and motivation, as well as the blurred relationship between the real and the subconscious. Drawing equally from folk vernacular and art-historical and contemporary influences, Dzama's work visualizes a universe of childhood fantasies and otherworldly fairy tales. Dzama works extensively in sculpture, painting, collage, and film where he combines whimsy with elements of dark humor, nightmare, and absurdity. The artist is also known for his intricate dioramas and large scale polyptychs that draw inspiration from his talents across a range of media.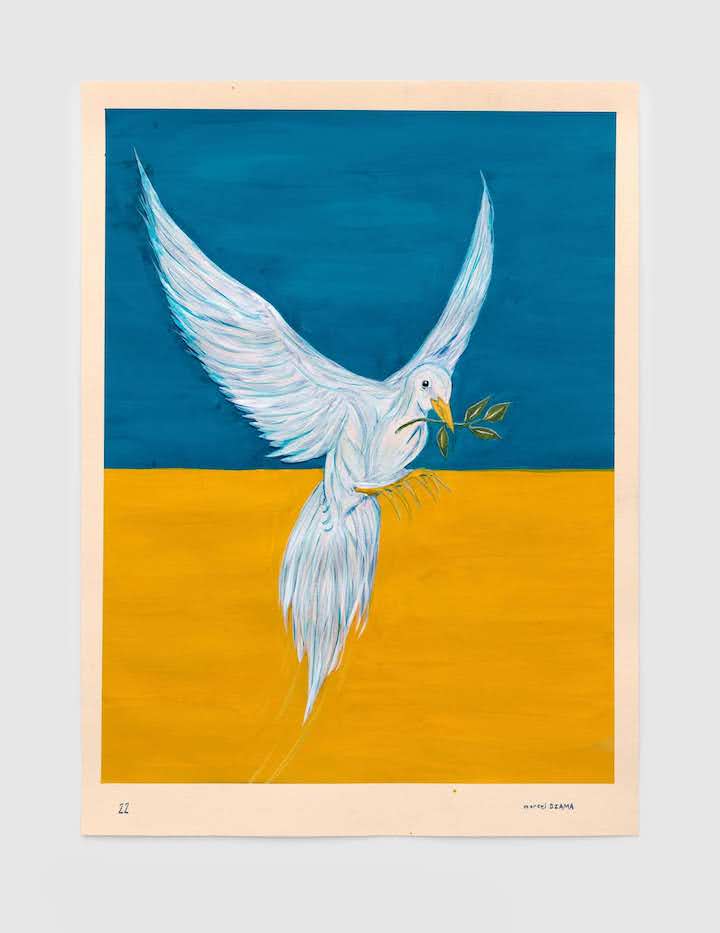 MARCEL DZAMA
Marcel Dzama, No War, Peace Now!, 2022
© Marcel Dzama
Courtesy the artist and David Zwirner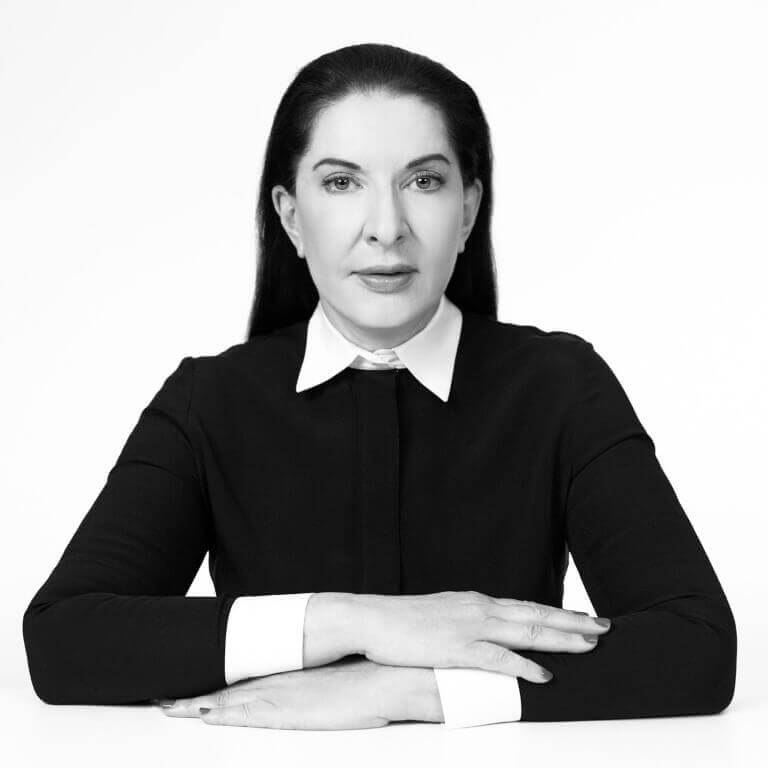 Marina Abramovic
Born in Belgrad, Serbia, based in Amsterdam
b. 1946
Marina Abramovic is without question one of the seminal artists of our time. Since the beginning of her career during the early 1970s in Yugoslavia where she attended the Academy of Fine Arts in Belgrade, Abramovic has pioneered the use of performance as a visual art form. The body has always been both her subject and medium. Exploring the physical and mental limits of her being, she has withstood pain, exhaustion, and danger in the quest for emotional and spiritual transformation. Abramovic's concern is with creating works that ritualize the simple actions of everyday life like lying, sitting, dreaming, and thinking; in effect the manifestation of a unique mental state. As a vital member of the generation of pioneering performance artists that includes Bruce Nauman, Vito Acconci and Chris Burden, Abramovic has created some of the most historic early performance pieces and is one of few still making important durational works.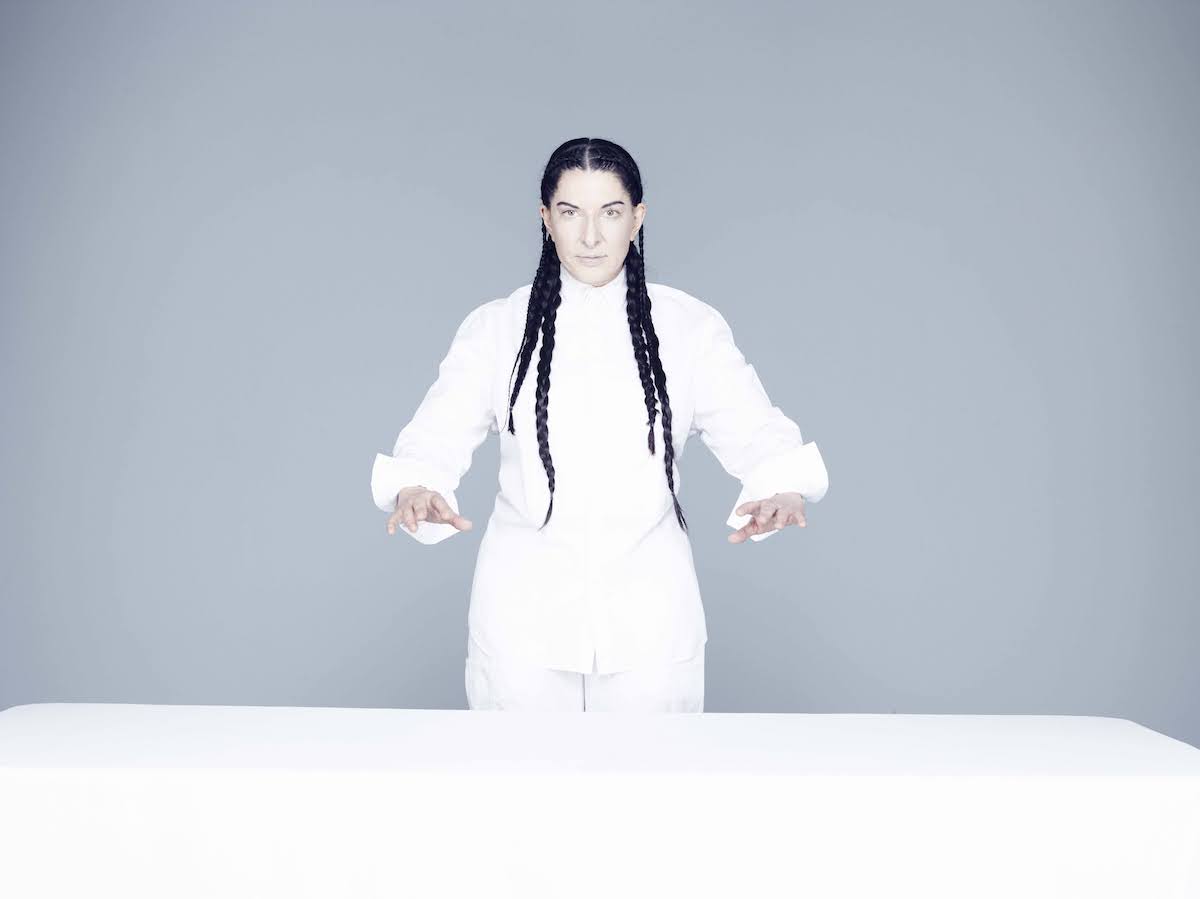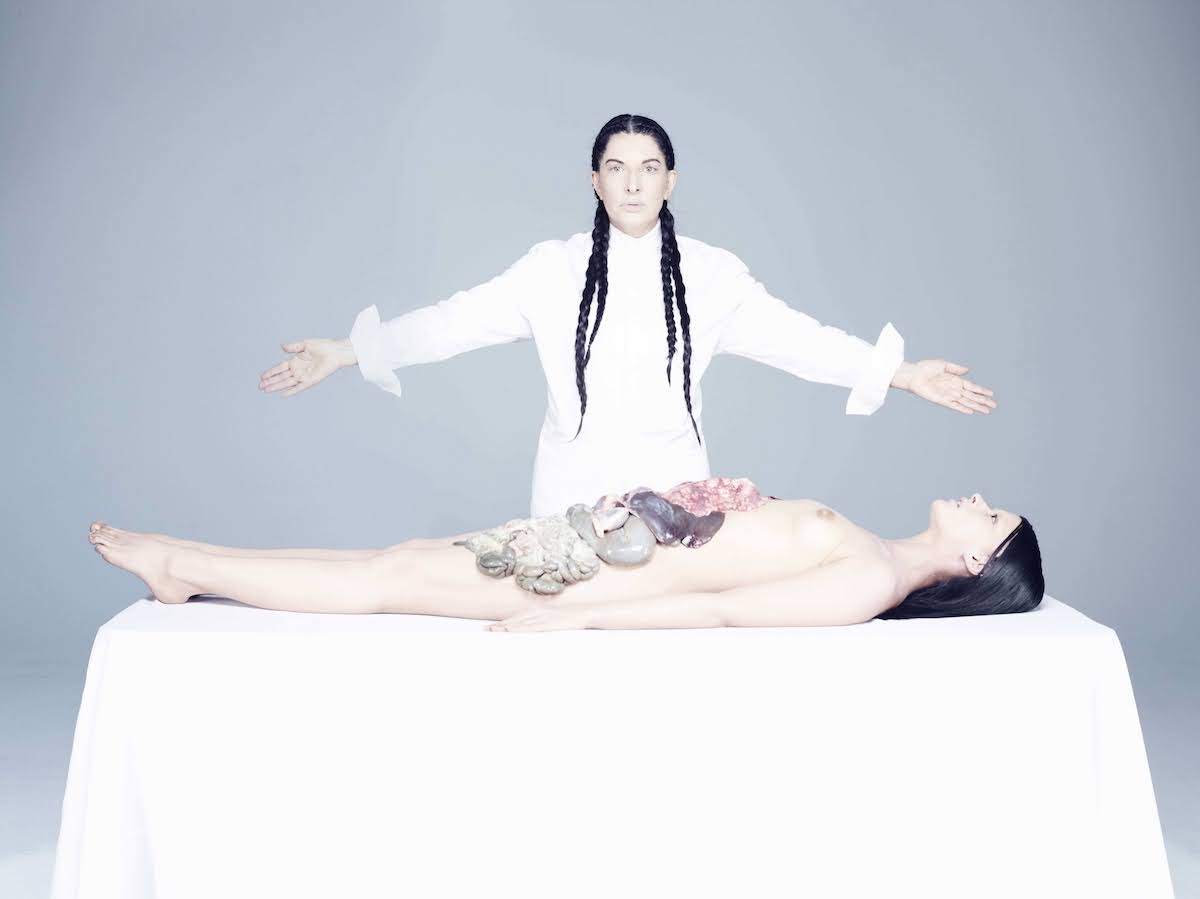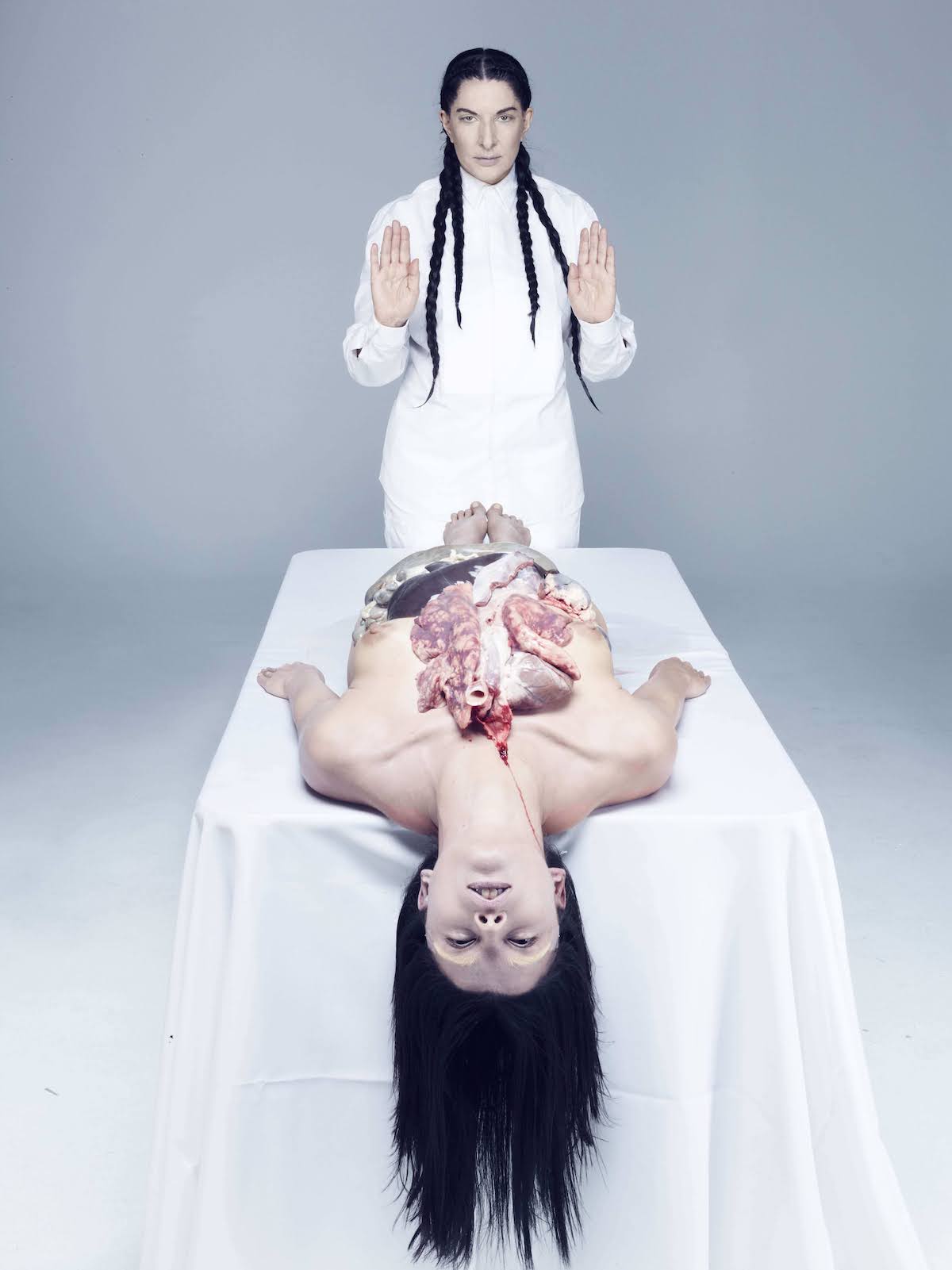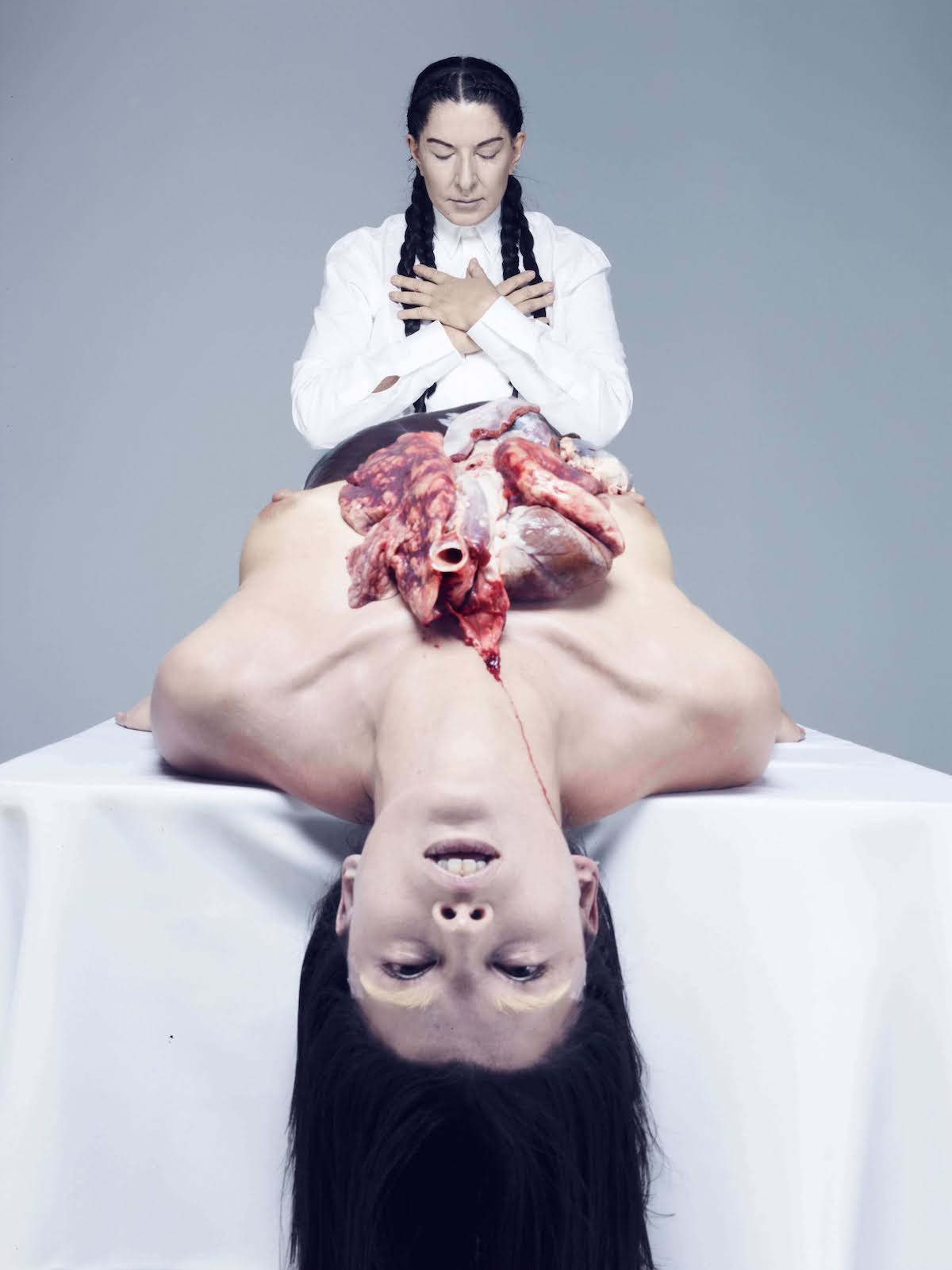 MARINA ABRAMOVIC
Miracle (I-IV)
Courtesy Lisson Gallery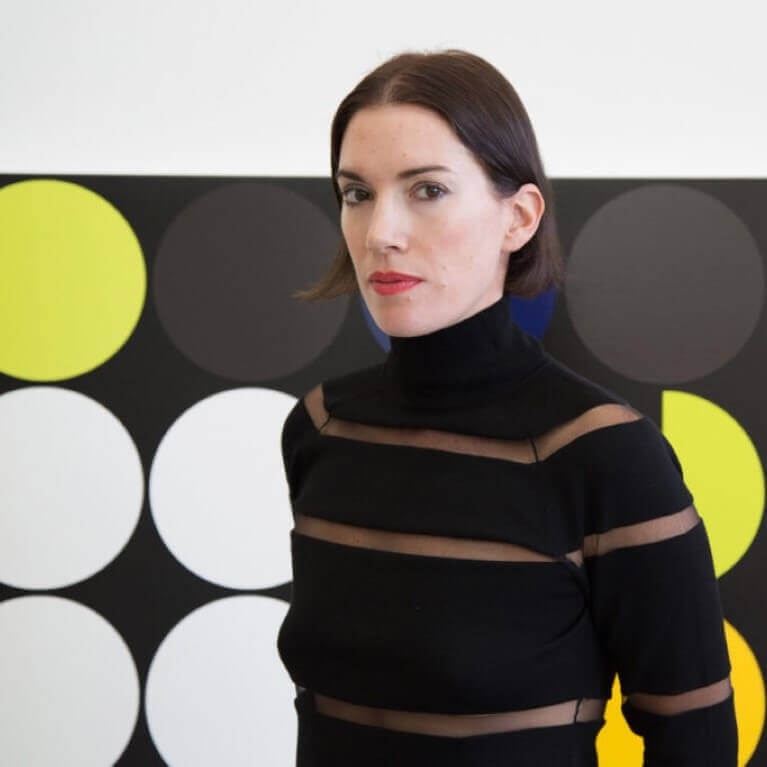 Sarah Morris
London, U.K.
b. 1967
Sarah Morris is an internationally recognized painter and filmmaker, known for her complex abstractions that play with architecture and the psychology of urban environments. Morris views her paintings as parallel to her films - both trace urban, social and bureaucratic topologies. In these media, she explores the psychology of the contemporary city and its architecturally encoded politics. Influenced by Pop, Minimalism, Conceptual Art and architecture and design, most of her large paintings feature abstract geometric forms and bold colors to investigate what she describes as urban, social and bureaucratic typologies.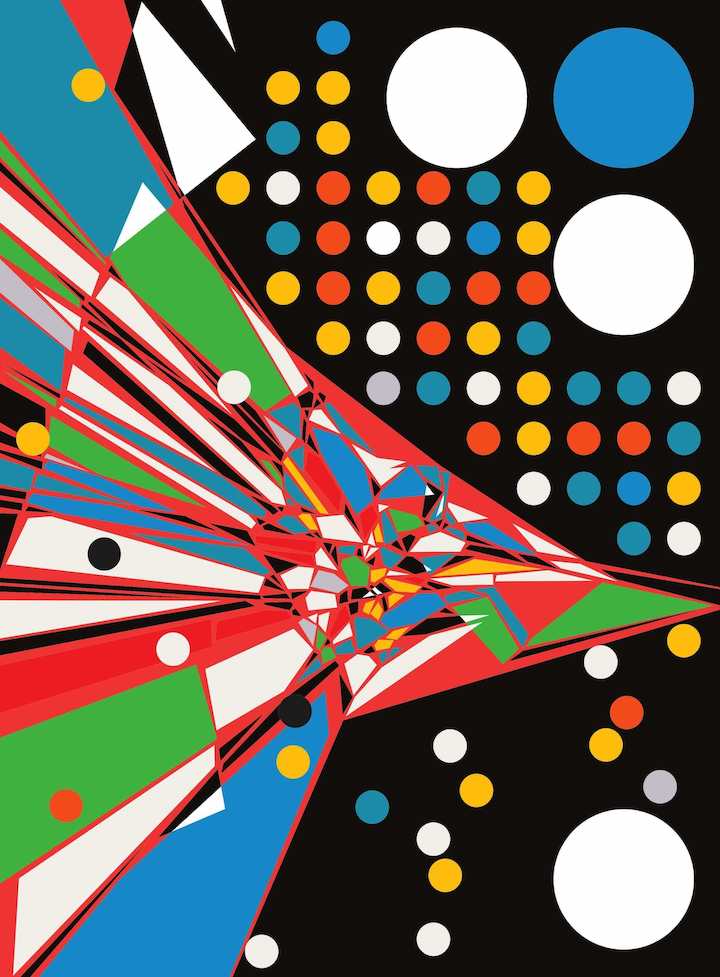 SARAH MORRIS
2022
Household gloss paint on canvas 214 x 290 cm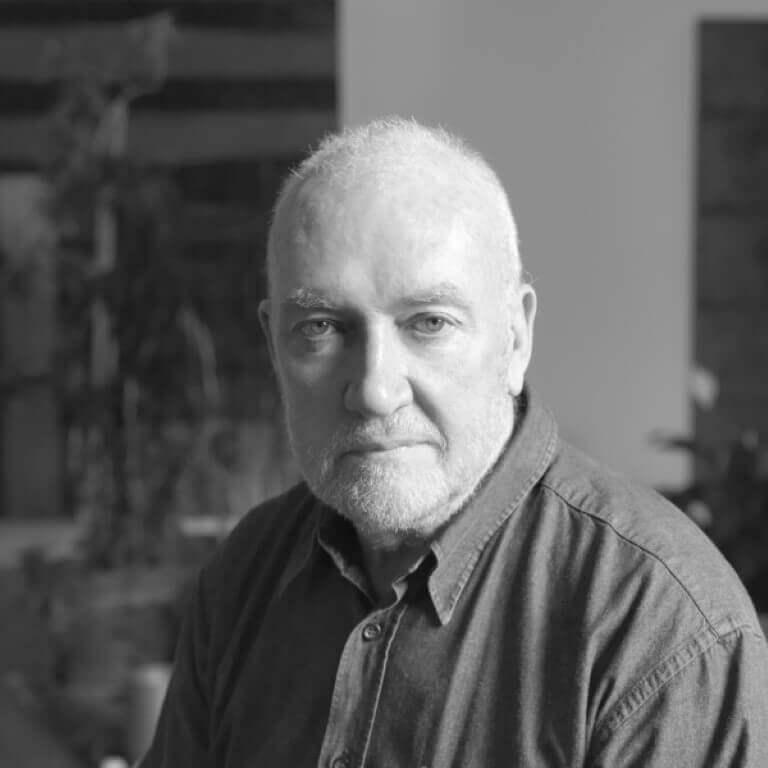 Sean Scully
Irish-born American-based
b. 1945
Sean Scully is one of the most important painters of his generation, whose work is held in major museum collections around the world. While known primarily for his large-scale abstract paintings, comprised of vertical and horizontal bands, tessellating blocks and geometrical forms in graded and shifting colors, Scully also works in a variety of media, including printmaking, sculpture, watercolor and pastel. Having developed over the past five decades a style that is uniquely his own, Scully has cemented his place in the history of painting. His work synthesizes a thoroughly international collection of influences and personal perspectives – ranging from the legacy of American abstraction, with inspiration from the likes of Mark Rothko and Jackson Pollock, and that of European tradition, with nods to Henri Matisse and Piet Mondrian, as well as references to classical Greek architecture. While monumental in scale and gesture, Scully's work retains an undeniable delicacy and sincerity of emotion.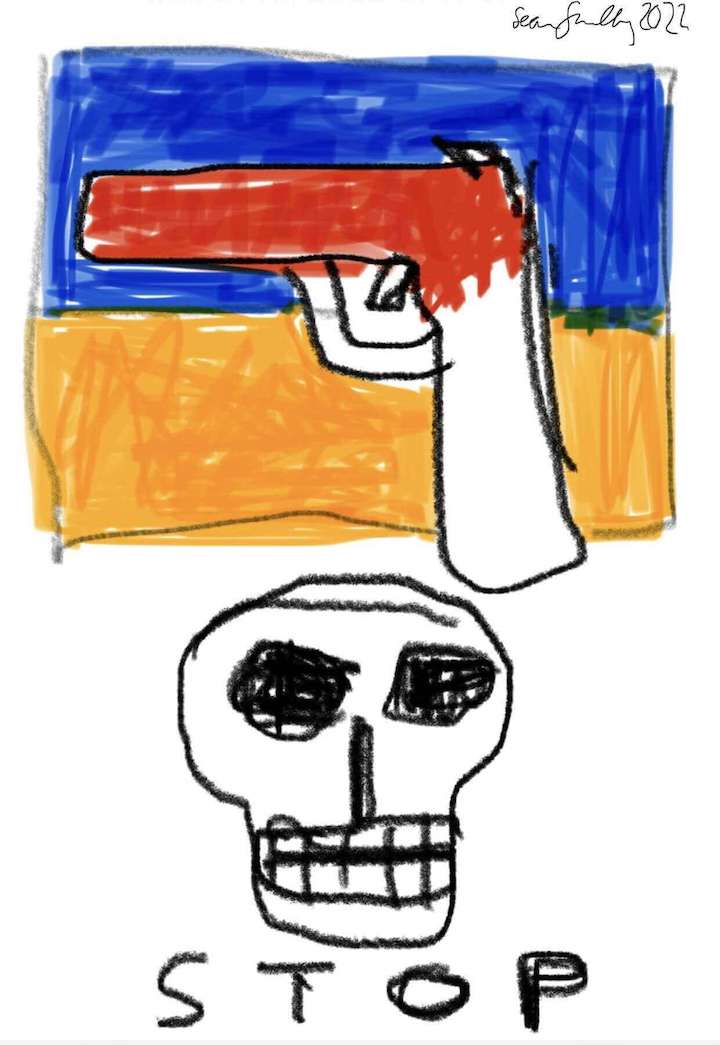 Sean Scully
Stop
Courtesy Lisson Gallery.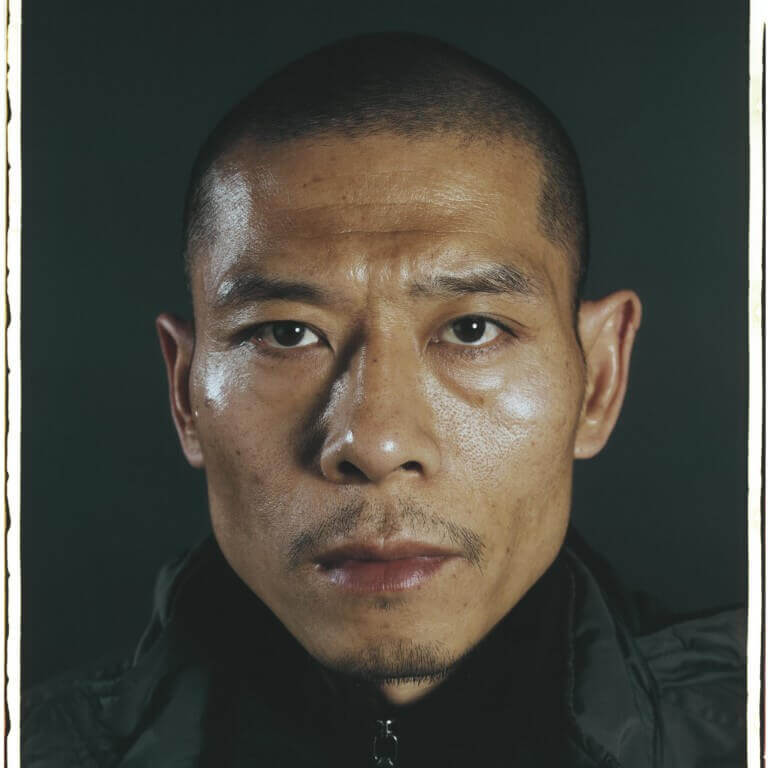 Zhang Huan
Anyang, Henan, China
b. 1965
One of China's best-known performance and conceptual artists Zhang Huan's work is at times confrontational, visceral and personally dangerous, and it engages both implicitly and explicitly with problems of overpopulation, cultural erasure, political repression, poverty, famine, and want. He is one of the most significant contemporary artists working in China today, and a pioneer of Performance art within the country from the early 1990s. Although living in New York for a time, Zhang is part of the generation of contemporary Chinese artists that believe that modern China is the right context for the production of their work, with all its contradictions and difficulties as an emerging global superpower.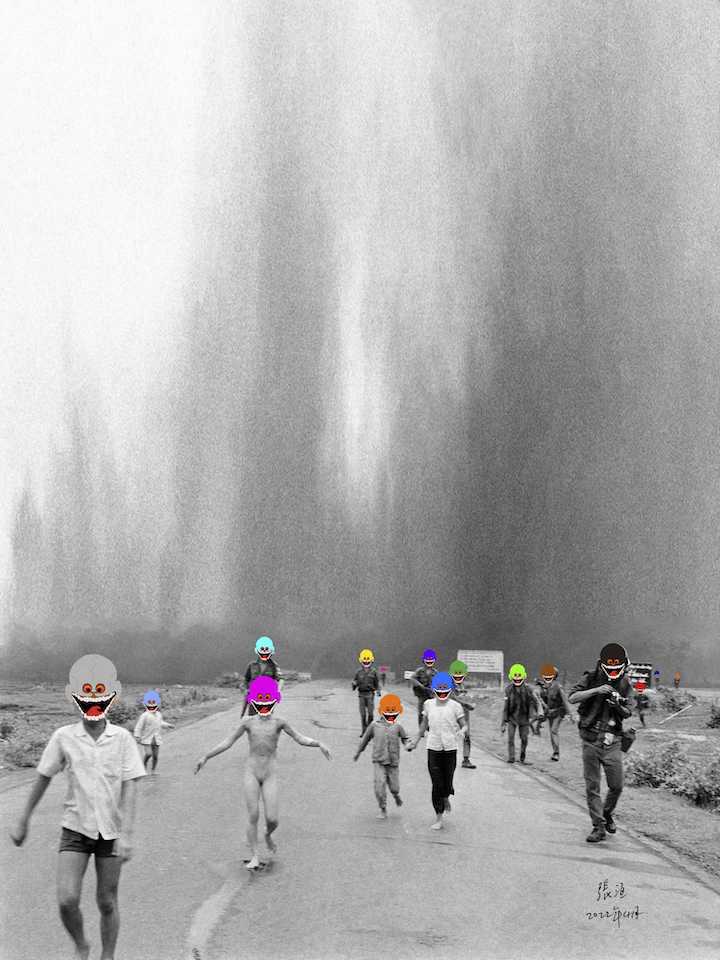 Zhang Huan
June 8th Space Flower No.1, 2022
Courtesy Zhang Huan, courtesy Pace Gallery